Race Day Schedule
7:00 AM

Packet Pickup & Registration Opens

8:00 AM

Packet Pickup and Registration Closes

8:00 AM

Kids' Half Mile Begins

8:05 AM

5 Mile Competitive Racewalker Start

8:30 AM

5 Mile Race Begins

8:55 AM

Post Race Party Begins
Packet Pickup and T-shirt
We strongly encourage early packet pickup for the 116th NOAC Turkey Day Race due to the high number of runners. This opportunity to secure your race number and participant shirt prior to race day will happen on Monday, Nov 20th and Tuesday, Nov 21st (from 12pm – 6pm) at the New Orleans Athletic Club (222 N Rampart St, New Orleans, LA 70112).
Attendees of early packet pickup are able to use the free parking options on the map (in lots marked with yellow rectangles).
Late registration will be available at the NOAC during this time for $50 for ALL adult participants, and $40 for ALL youth 5-Mile participants. Youth half-mile participants are $25. Race day registration is limited, and closes 30 minutes prior to race start time.
T-shirt availability and sizes aren't guaranteed for late and race-day registrants. T-shirts are only guaranteed to pre-registered participants who sign up online prior to early registration closing on November 16th
Each individual registration comes with one participant shirt.**
Each NOTC Family registration includes two participant shirts.**
Additional shirts for spectators and family members may be purchased during the registration process.
**Please be mindful of the fact that you can only enjoy member or family discounts before online registration closes on Wednesday, November 16th.
Member Discounts
Being a member has it's perks! Members of the both the New Orleans Track Club and the New Orleans Athletic Club receive $5 off the NOAC Turkey Day Race when signing up during the online pre-registration period.
For further inquiries about member discounts for the NOAC Turkey Day Race, email NOTC@runNOTC.org.
NOAC Members
If you're a New Orleans Athletic Club Member, simply sign up as an individual participant.
After Signup, enter your exclusive coupon code during checkout to get your $5 discount off pre-registration prices.
NOTC Members
For New Orleans Track Club Members, start by claiming your NOTC membership with RunSignUp Here and then register for the race while logged into your RunSignUp account to automatically receive the $5 race discount during checkout.
For families, the NOTC 'Family' registration option includes two adults and all youth under 20 in the same household, that are on the NOTC membership account.
Event Policies
Award Categories
1st, 2nd, and 3rd Overall
Male and Female
5 Mile Awards
1st Youth Male and Female
(15 and under)
5 Mile Awards
1st Master Male and Female
(40 and over)
5 Mile Awards
1st Grandmaster Male and Female
(50 and over)
5 Mile Awards
1st Senior Male and Female
(60 and over)
5 Mile Awards
1st Legend Male and Female
(70 and over)
5 Mile Awards
1st Racewalker Male and Female
5 Mile Awards
1st Overall Male and Female
NOAC Member
5 Mile Awards
1st-5th Overall Male and Female
(12 and under)
Kids' Half Mile Awards
Award Information
Awards will be distributed shortly after the race. Except for the first overall NOAC members, there is no duplication of awards.
It is the responsibility of athletes that finish in the awards to note any necessary corrections on race day. If an error is discovered post-race we'll be happy to correct your results and update the website accor-dingly. However, if you do not inform us of this issue before your award is given out we will no longer have an award to give to you and we can't remake awards.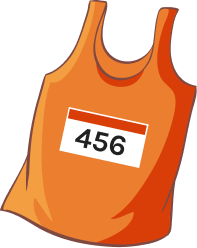 The races will be electronically timed and scored. You must wear your race bib and D-tag properly to be scored. Your race bib must be worn on the front of your torso and be visible at the finish line.
Preliminary results will be posted at the race site at the conclusion of the race. Full results will be published on this website after the event. Official race results and awards are scored by gun time. Net (or chip) times are published for informational purposes only.
Become a Volunteer
Be a part of something bigger this Thanksgiving by volunteering at the Turkey Day Race! You can help make a positive impact in the community and inspire others to embrace fitness and wellness. Volunteers receive a race T-shirt and refreshments from our sponsors as well. Email us at volunteers@runnotc.org for more volunteer information.